Airole
A pearl of Liguria, the Italian Riviera.
Airole is a mountain village situated high on a mountain with great views over the surrounding mountains and the river Roya. The village is from the Middle Ages and down to the little square winds lots of narrow streets. At the square there is a grocery store, restaurant, café, bar, library with internet access.
Facts
Closest airport: Nice
Nice Distance: approximately 40 minutes by car
Distance Ventimiglia (coast): 13 km
Distance Limone: 50 Km
Distance swimming (river Roya): walking
Population (December 1999): 513
Height above the sea: 149 m
Area: 15 km2
Grocery store: Yes, walking
Bars: Yes, walking
Restaurants: Yes, walking
Web: Comune Airole
Google Earth: Airole
The village has also school, pharmacy and two churches, and here are about 500 inhabitants. Square is a nice meeting and has arranged various performances and celebration. Airole also called "The open-air piano bar town". The medieval houses have been renovated by architects and artists in a very tasteful and piety way.
In Airole there are lots of beautiful hiking trails over mountains and valleys, this growing olive trees, mimosa, syringa, citrus, figs and more. Hiking trails are well marked to the neighboring villages.
In the river Roya can take a refreshing dip.
From Nice airport takes approximately 40 minutes by car. From Airole down to the coast at Ventimiglia takes approximately 10 minutes and up to the ski resort, Limone approximately 50 minutes by car. There are also good train and bus connections to both the coast and the Alps.
In Airole, you will find in other words, very relaxing for both body and soul, peace and quiet and fresh air.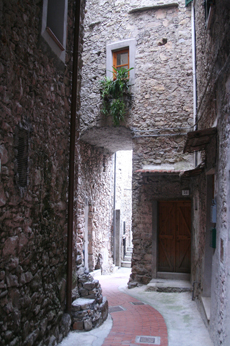 Airole, IT
Feels like: 11°C
Wind: 13km/h W
Humidity: 100%
Pressure: 999.32mbar
UV index: 0
12°C
13°C
13°C
13°C

14°C / 5°C
12°C / 6°C
9°C / 7°C
11°C / 6°C